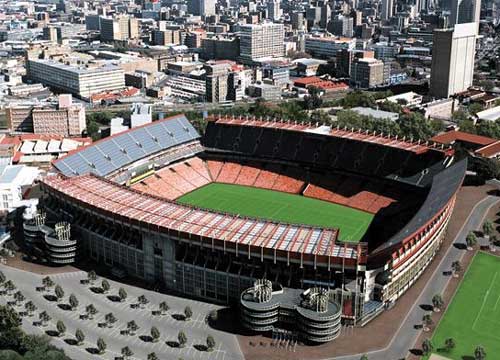 Our Games:
• M22 - Fri 18th June - 16:00 - Slovenia vs USA
• M54 - Mon 28th June -20:30 - 1G v 2H (7)
• M60 – Saturday 3rd July - 20:30 - 6 v 8 (Quarterfinal D)
Name:
Ellis Park (Coca-Cola Park)
Year completed:
1928 (rebuilt in 1982)
Cost:
US$63,000,000 (renovations)
Capacity:
62,567
Trivia
: In 1955, over 100,000 watched the rugby match between South Africa and British Lions and, in 2005, it became the first black-owned stadium in the country
The site of the 1995 Rugby World Cup final - when South Africa tore up the formbook to defeat New Zealand and Nelson Mandela famously donned a green Springbok shirt to present the trophy to home skipper Francois Pienaar - Ellis Park may be a shrine to the scrum and the ruck, but it is no stranger to football either. Orlando Pirates, where the likes of Mark Fish and Teko Modise have plied their trade, call the ground home.
Also known by its commercial name of Coca-Cola Park, the ground did not require extensive modernisation to meet FIFA standards and is located south-west of the city's central business district in New Doornfontein. Supporters can reach it by rail, getting off at Doornfontein or Ellis Park stations, or by using the park-and-ride facilities.
It will stage five group games, a second-round match and one of the quarter-finals.